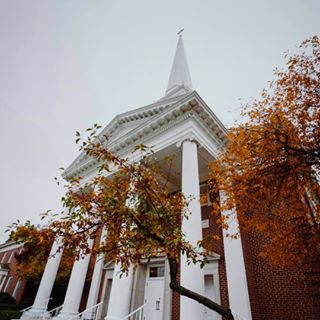 What Does 2020 Hold for Central?
As we turn the page of our calendars from one year to another, it is time to look forward to the future for our church. What will 2020 hold for Central United Methodist Church?
A Call to Prayer
I believe God is calling us to a deeper level of prayer in 2020. This is a year for all of us to turn to the Lord with a renewed sense of faith and commitment. Amidst the uncertainty of life, God is the one who will guide our paths, provide stability, and lead us with certainty into the future. In humble prayer and fasting, 2020 is a year to seek the Lord like never before. Bring all your questions and concerns before the cross, lay your burdens on the altar of grace, knowing God loves you and wants the very best for you.
We are called to live lives of prayer. We saw countless grassroots prayer groups emerge within our church fellowship during 2019, I am hoping many new prayer groups will begin this next year. God calls us to pray individually and corporately. Jesus tells us "When two or three are gathered in my name, there am I with them" (Matthew 18:20). As you make your list of goals for 2020, invigorating your prayer life should be at the top of the list. Set a goal to spend more time daily and weekly in prayer. Plan to learn new methods of prayer and try new techniques. I will lead a class beginning January 15 based on a classic resource written by Maxie Dunnam called The Workbook of Living Prayer. Click here to join me on a renewed journey of personal prayer.
Family Conversations
This year our church will need to engage in serious family conversations. With the United Methodist General Conference (GC) set for May 2020, our church membership will likely need to make decisions depending on the outcome. This will likely be the year our local church decides how we as a family want to move forward with beliefs on human sexuality and same-sex marriage. Most GC legislation has provisions for two or three new Methodist expressions moving forward. Our congregation may need to choose with which denomination we will align. Leading up to such a historic decision, it will be important that we engage in conversations with one another, listen to varying opinions and viewpoints. The Arkansas Annual Conference has developed resources for our laity to lead us called Family Conversations. This new resource will provide information about General Conference legislation and trained facilitators will lead small group conversations about how our church family wants to move forward. We plan to schedule these Family Conversations led by our laity in February/March. It will be important for all of our members to be informed and have healthy conversations with one another.
Remember God's Faithfulness - Past, Present, and Future.
As I reflect upon the 187-year history of Central, I see how God has faithfully led this congregation. We are a church forged out of the Arkansas frontier, birthed by hardworking people who possessed an unswerving faith in Almighty God.
Imagine the tough folks who started the church in the Brodie's log cabin before Arkansas was a state. They held onto faith in the challenges of early frontier days hoping for a traveling preacher to come to preach God's word. They built a small structure on West Center Street near the square. During the Civil War, many lives were lost, a huge battle was fought in Fayetteville and the army came rushing up Dickson Street headed for East mountain. The church was burned in 1863 along with many other buildings and the congregation was without a preacher for two years.
In 1874 there was a great revival with months of preaching and many conversions and baptisms. A new structure was built on West Center street and today a plaque stands in that spot in a municipal parking lot. There was a smallpox epidemic that caused the leaders to close the church for nearly a month to prevent the spread of disease. Many lives were lost.
In 1898 the church had grown so much they bought property on the outskirts of town at Dickson and Highland. On the empty land, a tent was set up and a revival preacher came from Siloam Springs. It was reportedly one of the most successful revivals ever held and many were converted to Jesus Christ. The original sanctuary was built on the corner in 1899.
The growing faithful congregation went through two World Wars and the Great Depression. There were horrible polio outbreaks in the early 1950s and men enlisted to fight in the Korean War. They remained steadfast and the church grew in faith and number. Our beautiful sanctuary was built in 1953. They went through the Civil Rights movement and Vietnam. Two fires heavily damaged the sanctuary in 1969 and 1971.
In 187 years, there have been 52 senior pastors and three parsonages. The church has gone by three different names. The denomination split once and united with other denominations twice. Our forebears, the saints of old, went through a great deal. Their strength and fortitude paved the way for us, and we are called to pave the way for the next generation. So that someone someday will remember how we were faithful in difficult times. I believe their prayers for our church are still being answered by God today, whose love is steadfast, whose promises can be trusted and whose faithfulness never ends.