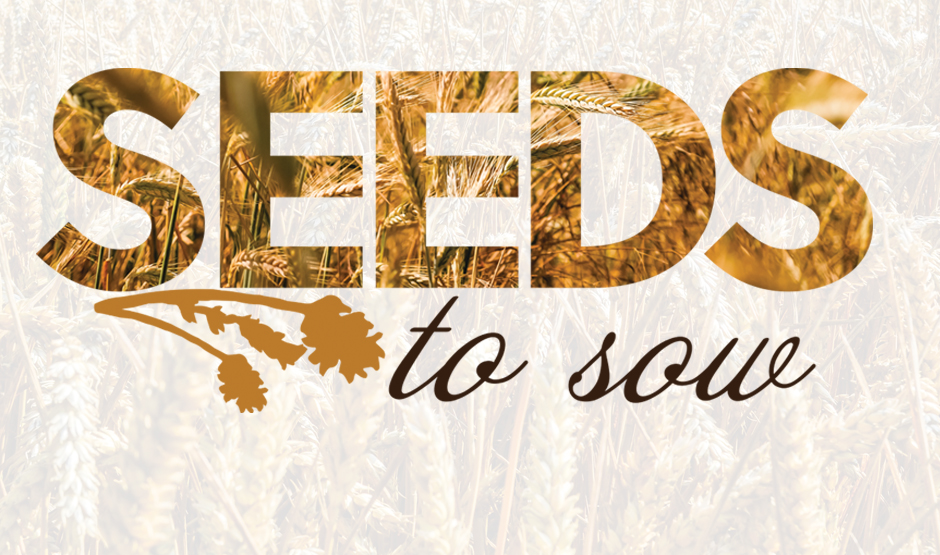 God has given each of us seeds to sow into the lives of others. In the dry, hard ground of the spiritually empty world around us, Christians have a crop to produce – a harvest for God. We must sow seeds. A seed is such a small thing. When we act as seed sowers, we may not feel that we are doing very much, but we must remember we are. Seeds sprout and grow. Acorns become giant oak trees. Fragile apple seedlings become large productive orchards. Pine cones grow to be lofty pine tree forests. The smallest mustard seeds sprout into large plants.

We must sow seeds. What do we have to sow? We have time to invest. We have gifts, talents and skills we can plant for good in the world. We have kind words to offer. We can pray for someone. We can sow seeds of love, peace, and joy into the lives of others. We can write a note of encouragement. We can tell our testimony about Jesus Christ. We have material resources to share. We can offer someone our excess food, clothing or shelter. We have money to invest. We have financial resources that are the fuel for ministry and mission. God gives us resources – an abundance of things that God can use to grow the kingdom.

We must sow seeds. Seed sowers must be intentional and decide we are going to plant. Seed sowers must be consistent sowing every day. Seed sowers must be patient and wait for our work to find good ground, take root and sprout. Seed sowers must be generous, not withholding what we have, but pouring it out for others. Seed sowers must be faithful, confident that God will multiply what we give. Seed sowers must be cheerful, not afraid to let go of what we hold in our hands, but excited to invest what God has given us into the kingdom.

So, we are seed sowers! Don't store up the good seeds God has given you; sow generously for the kingdom of God. God takes what we give, blesses and multiplies it, promising a rich and abundant harvest. Be faithful in your seed sowing work for God, the fruit will come, the harvest will appear.
2 Corinthians 9:10

Now he who supplies seed to the sower and bread for food will also supply and increase your store of seed and will enlarge the harvest of your righteousness.

-Jan Davis
Senior Pastor