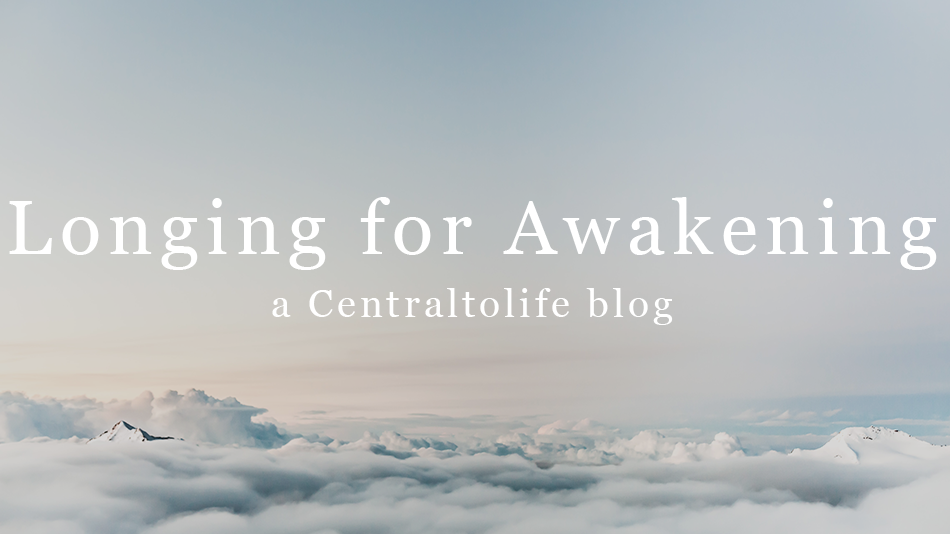 "Wake up, sleeper, rise from the dead, and Christ will shine on you"—Ephesians 5:14, NIV.
A couple of years ago, Dr. Jan Davis and I were invited to be a part of the Seedbed New Room Summit at Asbury Theological Seminary in Wilmore, Kentucky. One of the outcomes of this three-day summit, filled with prayer, discussion, worship, and teaching was the following definition of awakening:
"Awakening is the outcome of encountering Jesus, through whom the love of God the Father is poured into our hearts by the Holy Spirit. Awakening both results from and leads to deep wholeness in people, renewal of the Church, evangelization of a generation, and transformation of society. The common thread of the Christian story and the great urgency of our day, awakening unfolds in small ways which produce vast blessing to all of creation. It comes most readily to those who are desperate for more of God, to any disciple of Jesus thirsty for a manner of prayer and quality of relationship that bear the marks of plain, Scriptural Christianity—the measure of which is holy love. The Church cannot manufacture awakening; it is ultimately a work of God's power and a sign of His presence. But we can sow for awakening, remove impediments, and posture ourselves to receive it. We do so by the ministry of Word and Spirit, the priority of travailing prayer, in communities of banded discipleship, for the sake of multiplying the Church of Jesus Christ and the bold expansion of God's Kingdom."
There is a lot packed into that paragraph which reflects a deep longing for God to awaken his church. Again, if "sleepers" are going to rise from heavy slumber, it will take a work of God to raise us up.
In Revival Rising, Mark Nysewander, pictures awakening as another type of rising—the rising power of a tidal wave. He laments that we often settle for less than God's power. We settle for a small blessing, a little boost, or a little help and God desires for us to experience "Holy-Spirit-coming-on-you" power. This is the type of power Jesus speaks of in Acts 1:8 when he says to his disciples, "you will receive power when the Holy Spirit comes upon you." Nyswander calls us to repent for making the possibility of revival so rare. And that we should expect the Holy Spirit to come in power for this time in history."[1]
Awakening for a people or a nation begins with individuals. Dave Thomas, in his tract To Sow for a Great Awakening, tells of the spiritual posture of individuals during the Welsh revival of 1949-51. The key leader of the revival was Scottish evangelist, Duncan Campbell. Initially, Campbell was to stay for ten days in 1949. Instead, revival occurred and his ten-day itinerary turned into a three year experience of awakening.[2]
When witnesses of the revival were asked of their experience of the Spirit's great movement among the people, they stated that a spiritual posture played an essential role. Witnesses described that there was, "a spirit of urgency and audacity, an attitude of brokenness and desperation, a manner of prayer that could be daring and agonizing."[3]
The people were desperate for awakening. They were desperate for Jesus. Perhaps the lack of spiritual fervor in much of western Christianity is our lack of desperation for Jesus. We think God wants to remove our problems and fix places in our lives where our lives don't serve our desires and dreams. We easily forget that God desires our holiness much more than God desires our westernized definition of happiness.
I heard someone talking recently about successful church ministry. What does successful church ministry look like? What has it always looked like? Like Jesus. Jesus is our only measure of success. Jesus was open to all the possibilities and power of the Father. In fact, Jesus said that he only does what he sees the Father doing (John 5:19-20). When we are desperate for revival, what we are really desperate for is the presence of Jesus through the Holy Spirit. Jesus is the full expression of the love of the Father.
Dennis Kinlaw tells the story of an evangelistic crusade taking place in Romania at the time that Communism in Eastern Europe was falling. The attentiveness of the people in attendance was remarkable. After so long a time of being deprived of the Christian message and teaching, the people were desperate for the presence of God and to hear God's word proclaimed. One night, as the evangelist Sam Kamaleson gave the message, he noticed a sound sweeping across the audience every time he said the name of Jesus. What he discovered was weeping. Sam explained, "You know, when the last alternative option to Jesus has been exhausted and shown for its true bankruptcy, the name of Jesus takes on great power and allure."[4]
So, let me close this blog entry with a question: On a level of 1 being the lowest and 10 being the highest, what is your desperation level for Jesus and to be fully alive (awake) in him?
[1] Mark Nyswander, Revival Rising (Franklin, TN: Seedbed Publishing, 2016), 6-8.
[2] David Thomas, To Sow for a Great Awakening (Franklin, TN: Seedbed Publishing, 2016), 8-9.
[3] Ibid., pp. 9-10.
[4] Dennis Kinlaw, This Day with the Master (Grand Rapids: Zondervan, 2002), December 2.