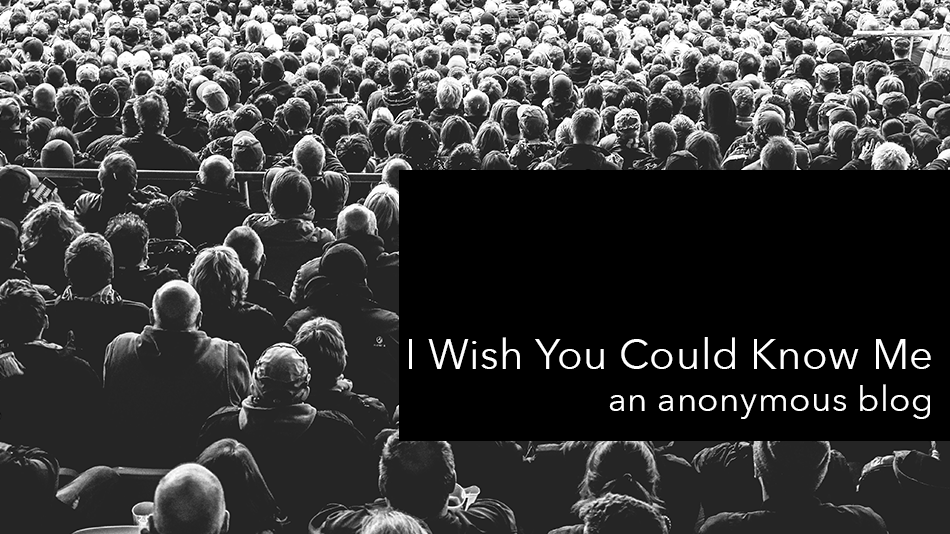 I wish you could know me.
And still be my friend.
I'm a middle-aged gay man who has been in the closet for the last thirty-five years—divorced, with a grown child. I attend church every Sunday at Central. I don't sit in the shadows. One or two of the pastors might know my name. I'm an active participant in ministries and programs. I love both God and my church dearly.
How many years have I wished I wasn't this person? I never wanted this. Now that I'm in my 50's, I have found some degree of self-acceptance. It's who I am. It's just not who others think I am (or want me to be). I'm not sure where the fear comes from that keeps me from sharing my life with my biological family, much less my circle of friends at this church. The people at Central have never given me any reason to think they are not accepting. It is a wonderful and humbling thing to be in a community of faith where people can respectfully disagree but still be committed to one another as brothers and sisters in Christ.
Maybe it's the thought that society has placed on many preconceptions of someone who comes out of the closet. Once you tell someone you're gay, does it forever change how they act towards you or do they make assumptions in what beliefs you might hold? The media has polarized people into different camps. If you are going to be in the LGBTQ community, you better believe this way. And if you are a Christian, you have to believe this. I'm no radical. I'm not out marching in the streets. I'm not going to try and convert others. I don't want to force acceptance of me on anyone. I don't know if who I am was a choice (unconscious or not) or I was born this way. I don't even believe in gay marriage. I'm not "practicing." I've had one relationship in 25 years. I was "saved" when I was 12 years old and am devoted to Christ. What do you do when you don't fully belong in either camp? Maybe that's where the fear comes from. What happens if I lose my church family or my ability to participate in ministry? Where do I go?
Perhaps I will be spared ever having to share this personally with anyone. Maybe this blog provided enough therapy where I feel I have gotten my feelings out.
I don't know.
What I know now is that I am surrounded by a wonderful church, but yet, I have never felt more lonely in my life. What about relationship? I am not talking about romantic relationships (although that would be nice at some point). What's the first step towards developing deeper relationships and trust in such a large place? I am desperate for this. At what point do I share what is buried deep?
All I know is that I am being driven to a place of total faith in God's sovereignty. I've trusted him with so many other things in my life. Maybe it's time to let him have this also? Maybe that's the point of all of this. I have to find trust beyond myself—in God and, at some point, in a small community of loving friends. I ask for prayer for this journey. Pray for a deepening of trust, courage and faith and a lessening of fear. I will be praying to have the right circle around me when it's time. Pray that my concerns will be for others and not just a selfish focus on myself.
I love you all.
Sincerely,
Anonymous
Scroll down to share your comment.