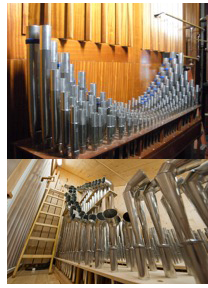 Central United Methodist is excited to have signed a contract with John-Paul Buzard Pipe Organ Builders from Champaign, Illinois, for our new pipe organ! This will be the firm's 46th new instrument built since the company opened its doors in 1983.

Our instrument will have 44 stops and 54 ranks of pipes. It will feature two twin cases on either side of the chancel and new tone opening in the front of the sanctuary. The console, the organist's control center, will have three keyboards (manuals), a pedal board, 4 expression shoes, 50 buttons, 23 tilt tabs, and 90 stop knobs. It's like the cockpit of an airplane!

How this project was made possible.

We have been blessed with an anonymous donation to the organ project in the amount of 1 million dollars. This initial donation has provided funds for 41 of the 54 ranks of pipes, the beautiful casework and facades, and the console of our instrument. This will be a complete and dynamic 2-manual instrument and is fully functional. The organ, however, is designed to be a 3-manual instrument if fully built out. The third manual is called the solo division and will include a vast dynamic range of sound, with some of the most powerful and delicate stops. The current cost of this final portion of our sanctuary organ is $360,000. With these additional donations, we can install the entire instrument in October of 2018. This instrument will be the largest pipe organ in the region. It will bless Central's congregation and the greater NWA community for generations to come. We also believe it offers some unique partnership opportunities with the University of Arkansas.


Now, you're probably scratching your head wondering what all this organ terminology means. So, let me explain a few terms today to understand how an organ works.

What is a rank?

A 'rank' is a set of pipes of a given sound and pitch level. A rank consists of 61 pipes for the keyboards and 32 pipes for the pedals. Each pipe makes one sound and one pitch. Example names of these ranks are: Open Diapason, Harmonic Flute, Tuba, and Cello Celeste. Our instrument will have 54 sets of pipes. That's almost 3600 pipes, ranging from 16 feet long to the size of a pencil!


What is a stop?

A 'stop' is the actual mechanism that turns on a rank or set of ranks on the organ. Some stops have one set of pipes while others may have up to four or five. If you have ever used the phrase 'pulling out all the stops,' the origin comes from the pipe organ! Stops are knobs on the left and right side of the organist, allowing them to be easily reached to change specific sounds.

What is a division?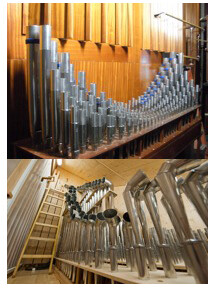 A division is simply a group of ranks controlled by one keyboard on the organ. The four divisions of our instrument are called; Great, Swell, Solo, and Pedal.

List of stops in the Solo Division that need to be funded

Major Tuba 8' | 61 pipes | $70,000
Grand Open Diapason 8' | 61 pipes | $55,000
Harmonic Flute | 61 pipes | $55,000
Viola da Gambe 8' | 61 pipes | $42,000
Viola Celeste 8' | 61 pipes | $42,000
Flute Celeste 8' | 61 pipes | $34,000
Mounted Cornet V | 210 pipes | $30,000
Flute 4' | 61 pipes | $16,000
Principal 4' | 61 pipes | $16,000
Complete Solo Division Cost = $360,000

The costs of the individual stops listed include an allotment for the pipes, the mechanical system (windchests, values, wiring), the expression box, shutters and engines. These stops cannot be installed one at a time, but rather altogether.

You might recognize some of the stop names like Tuba and Flute, but what on earth is a Cornet V or Principal? In the next blog, I will further explain these stops and components, how they sound and function, and even how they look!

-Scott Montgomery
Associate Music Director and Organist