Beyond Our Walls- Serving as Jesus Served
Greg Gibson had given me a solid 3 days-notice that I would be delivering the inspirational message for our spring 2018 Beyond Our Walls breakfast. Due to the large number of last-minute preparations that go into putting the event together, I, naturally, had nothing prepared.

The morning of Beyond Our Walls, I woke up at 2 a.m. to go to Wal-Mart for last minute bingo prizes for the LifeStyles pizza party we host each BOW. It wasn't until then that I remembered the little detail about me inspiring and speaking to 160 people.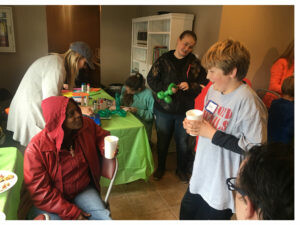 As I do each morning before getting out of bed, I asked God for the strength and courage to do His will and to love others. The Spirit reminded me to remember why we do Beyond Our Walls, and I had to ask for some clarification:

To care for the needy? Yes, but not exactly.

To feed the hungry? Sure, but not precisely.

To love our neighbors? Of course, but ask again.

To do it for the Lord (Matthew 25)? Sure, but let me explain.

My bible was bookmarked to 1 John chapter 4 as our Community Meals bible study had been discussing God's deep love for us. As I opened to that page in scripture, a little phrase jumped out at me like I'd never seen it before: the explanation for why we do things out of love and service.

Right there at the end of 1 John 4:17 was the clear explanation:

"Because we LIVE LIKE JESUS here in this world."

We love because He Loved.

We pray for others because He did.

We offer Grace as we've been blessed to receive it from Jesus.


We welcome everyone into fellowship because He showed that there's a place at His table for everyone.

We feed the hungry because He so often did.

We offer forgiveness because, in His great mercy, He will freely forgive anyone.

We invite others into our church because God wants us all to have a place to worship and be together as the body of Christ.

We reach out to the forgotten, the marginalized, the impoverished, and the lost because those are exactly the people He hung out with.

That's the explanation and the reason for all that we do as followers of Christ. To be like Jesus, to live by His example, and to follow in His footsteps.




At Beyond Our Walls we go out into our community to serve and love as Jesus did. We offer fellowship, meals, kindness, and acts of service to the least of these – our brothers and sisters in need.

Being like Jesus in this world means going beyond the walls of our church and actively engaging our world with actions that mirror what Christ did.

Lord, we thank you for your limitless love that guides us as we live lives of love as we seek to do small things with great love. You showed us by offering compassion out in the real world that God is not confined within the walls of our church, and we praise you for the chance to go out into our community to serve others. Thank you, Lord, for so many willing and wonderful volunteers that always show up ready to do whatever is needed with a heart for giving of themselves- just like you did. In the name of the One who showed us how to reach out to a broken and hurting world, Jesus our Shalom, Amen.

-Glenn Miller
Local Missions Coordinator