Special Needs Ministry
"For you created my inmost being, you knit me together in my mother's womb. I praise you because I am fearfully and wonderfully made" Psalm 139:13
Our goal is to support and nurture Individuals with disabilities within our Church body and in the community, demonstrating by our actions that we believe all people to have intrinsic value; uniquely created and wholly loved by God.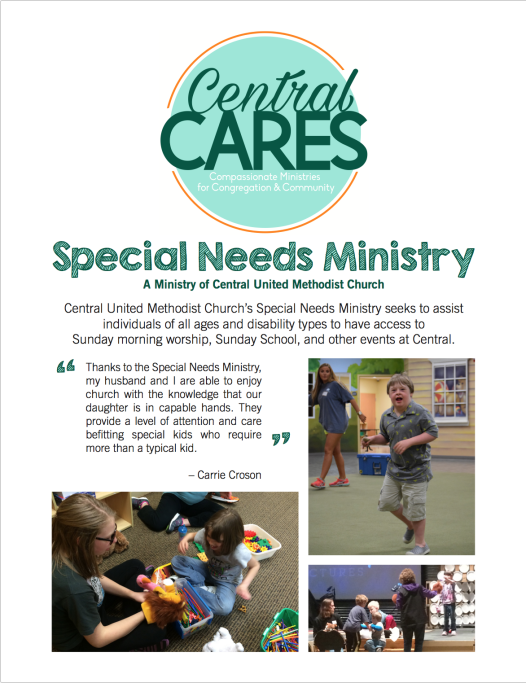 Special Needs Ministries offers:
IN-CLASS SUPPORT Each child is supported within his or her age-group Sunday School classroom by a trained Special Needs Ministry team member.
INDIVIDUALIZED PLANNING Each child's unique learning needs are addressed in a joint planning meeting with the teachers, parents, and ministry team members. This is usually an informal meeting after the child's first Sunday, but the ministry coordinator is available to meet with the parents prior to their child's attendance if desired.
1:1 SUPPORT If the parents desire, or it becomes apparent that the child needs a more structured and supported environment than the regular Sunday School classroom, a 1:1 team member/student ratio is available to work with the child in a dedicated classroom during the 9:30 a.m. service each Sunday.
DISABILITY AWARENESS TRAINING Ongoing training is available to those who would like to know more about disabilities and how to support those who have a disability in the classroom, at home, or in the community.
SPECIAL EVENTS
Family support groups, and other special events will be held throughout the year to support our members with disabilities and their families.
rEcess at Central United Methodist Church
rEcess is a program that provides respite services to families experiencing disabilities, we provide a safe environment for children with special needs and their siblings the second Friday of each month. In order to attend a rEcess event, each family needs to fill out a parent packet, so our team can determine if we are able to accommodate your child at this time. The parent packet is available to download on http://99balloons.org/resources/parent-packet-usa/ and needs to be returned to the Special Needs Coordinator.
ENVIRONMENTAL SUPPORT
This support is available to anyone experiencing difficulty accessing classrooms, worship areas, restrooms, or other areas. The Student Ministries Building and Activities Center are fully handicap acessible. Wheelchair seating is available in the Sanctuary. The Wesley Building is equipped with an elevator and all floors are accessible by wheelchair.
ADULT SUPPORT
The Special Needs Ministry can work with adults with disabilities to find a Bible study class, attend worship, and get connected with other adults in the life of the church.
We also can assist our senior members!
Hearing assistance devices are available in the south narthext of the Sanctuary for those who have a difficult time hearing the service.
Large print bulletins are availabe upon request.
Large print Upper Room devotional guides are also available.
To contact the Special Needs Ministries Coordinator, Sarah Smith, please email or call 603-856-4870 if you have questions or are interested in volunteering.