Great is Thy Faithfulness Postlude
Dear Central Families:
The level of excitement increases as the construction of our new music suite and improvements to our sanctuary interior proceed. Each day the beauty of our sacred space is enhanced and the promised future of our classic worship venue is visualized. This is a wonderful time for you to be a part of a project that will bless countless worshippers at Central United Methodist Church for generations to come.
We are launching a Postlude campaign to raise funds for the finishing touches of the sanctuary project. In music, the postlude is the concluding action that provides a beautiful finish. This is an opportunity to purchase something in honor or memory of someone special to you.
In the summer of 2017, Central embarked on a ministry enhancement program called Great is Thy Faithfulness (GITF) to raise funds for a new music suite and sanctuary interior improvements. We approved the project budget to be $3,217,000 this past November at a Charge Conference. The project budget included some funding for furniture, fixtures, and equipment (FFE) but not enough to beautifully finish the sacred space.
The Postlude campaign will raise the additional funds needed to complete the beautification of our sanctuary. Four hundred families made a pledge to the original GITF program. For those of you who were not able to participate in the original program, this is an ideal time to get involved. Help us cross the finish line!
In Christ,
Dr. Jan Davis
Senior Pastor
All gifts can be made in honor or memory of a loved one!
Click Here to Make an Itemized Gift
Choose which items you would like to furnish! If you wish to schedule your payments you must create an account by clicking "Sign Up Now".

Click Here to Set Up a Recurring gift
If you do not have an account, you will need to create one to set up recurring giving.

Click Here to Make a One-Time Gift
Select this option to make a one-time gift to Great is Thy Faithfulness Postlude.

Click Here to Download a Printable Pledge Card
If you would prefer to fill out a paper pledge card, print and return to the church office.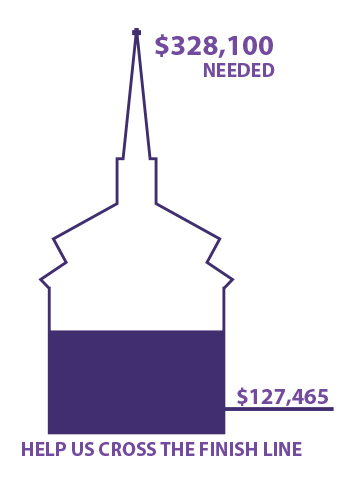 Questions? Email us at or call the church office at 479-442-4237.