Worship With Us
Worship with us
Central features multiple styles of worship on Sunday mornings during six different services at our two campuses.
We believe that we were created for worship. Worship is much more than gathering together to sing praises to our great God, yet we believe that singing together is necessary for our spiritual lives. Singing together enables the Holy Spirit to continually fill our lives and allows us to know, love, and worship God the Father through Jesus Christ.
Contemporary Worship Services
9:30 a.m. & 10:45 a.m.
Central's Activities Center | Great Hall
Our Contemporary worship services feature worship music by bands such as Hillsong, Elevation, Bethel and some original songs led by a full band. We utilize modern technology, such as lighting, stage design, and video. We would love to have you join us!
Classic Worship Services
8:30 a.m. & 10:45 a.m
Sanctuary
Our Classic Worship Services feature traditional hymns sung by choir, accompanied by piano or organ. It truly is a beautiful experience to worship God as one in our Sanctuary. We hope you will join us!
The Table
Tuesdays | 6 - 8 p.m.
SMB 2nd Floor
Seeking community and connection? Needing a little space and grace in your spiritual journey? Come to The Table for a meal, conversation, contemporary worship, and a fresh look at Jesus. Ask questions. Share your perspective. Be yourself. Everyone has a place at The Table. No registration is necessary. Join us any Tuesday evening.
Prayer and Communion Service
Wednesdays | 5:30 - 6 p.m.
Wesley Chapel
This service, led by Dr. Jan Davis, Dr. Frode Gunderson, and Kim Witte, is the perfect way to transition from a busy day into your Midweek group. You'll find room to breathe, space to pray, and spiritual refreshment in the presence of God. Experience a Spirit-filled time of scripture reading, devotion, words of encouragement, sacred music and prayer. You will be invited to share in the sacrament of Holy Communion and have the option to be anointed with oil for healing and wholeness. We will adjourn in time for you to attend 6:00 p.m. activities.
Interested in being a part of a Choral or Handbell Group? Want to be an Acolyte? Follow the links below to find out more!
Genesis Church Campus
9 & 10:45 a.m.
205 Martin Luther King Blvd.
Our Central faith community on Martin Luther King Blvd offers a smaller, more intimate atmosphere with worship being a mix of hymns and contemporary music. Services are held at 9:00 and 10:45 a.m. every Sunday.For more info on our Genesis Church campus, click here!
WHERE DO I GO?
Our contemporary worship service meets in Central's Activities Center, or CAC. Our Classic Service meets in the Sanctuary. You can park in any space in either the lot or the parking deck on our campus.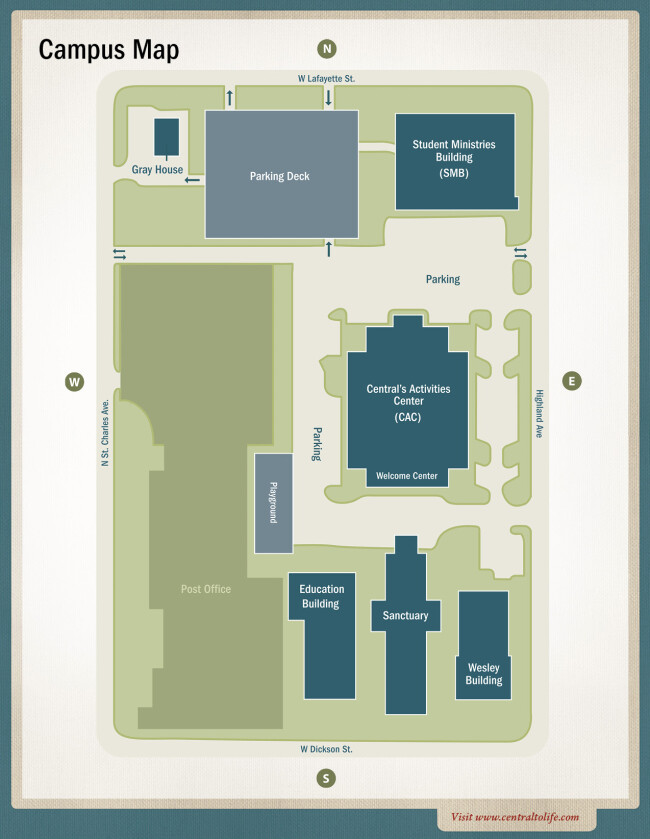 CAN I ATTEND IF I'M...?
Divorced, single parent, broke, recovering addict, atheist, skeptic... Whatever your fear is of not being accepted, it doesn't matter. You are welcome. So, come as you are, and we'll see you on Sunday!


WHERE DO MY CHILDREN GO?
Click here for more information about our Sunday morning children's ministry.