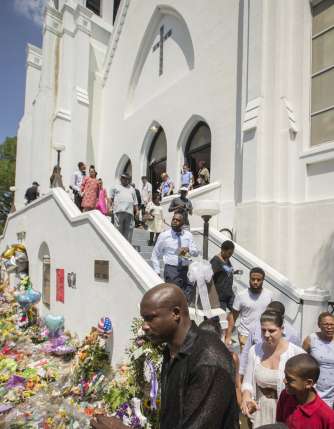 Image: Stephen B. Morton/Associated Press
Our nation is still reeling from the events of June 17 in Charleston, S.C. A white male shot ten and killed nine black women and men in the historic Mother Emmanuel AME Church, including the pastor. The latest face of hatred, 21-year old Dylann Roof, has reminded us that racism is not dead, not by a long shot.
Let me say at the start that I am NOT a native-born southerner. I was born and raised in Columbus, Ohio, one of the more progressive cities in the midwest. We did not have a Central High School, or an Edmund Pettus Bridge (Selma, AL), or even a Rosa Parks. But we had, and have, racism. My first encounter of note was in elementary school, when a family down the road from us adopted two children from Vietnam, but their appearance was akin to someone from sub-Saharan Africa. When we were playing football one day, I heard one of the adults on the sideline exclaim, "boy, that little n_____ is fast."
Now, don't think that I had never heard that word before; I had. But I had never heard it used in reference to someone I knew. I wasn't fully aware of what that word meant, but even at my young age I knew it wasn't a compliment.
Fast-forward to my junior year of college, the "roommate randomizer"matched me and my chosen roommate with an African-American male. I was not concerned at all about the match, but a close relative of mine called and warned me to lock up all of my valuables, because, and I quote, "those people have sticky fingers." Just to be clear, I never had a single issue with my new roommate (that is, outside of normal roommate struggles).
I could go on to share other experiences as I moved from Ohio to California to Kentucky to Arkansas, experiencing tense racial issues in each place. But is racism really "the" issue?
As I write this, seven days following the tragedy, news reports continue to vomit out the many issues: It's racism. It's hatred. It's mental illness. It's gun control. It's the confederate battle flag. It's the rebel mascot. It's bad parenting. It's violent video games. I have heard every one of these and more forwarded as a rationale for the chaos that ensued that night. So what is it? What is "the" issue?
It may shock you to hear this from one of your pastors, but I don't think it is any of them. Sure, some (or maybe all) of these contributed to this deadly action, but none of them pulled the trigger ten times. The problem is as old as humanity itself. And the problem IS humanity itself.
Genesis 4 tells the story of one of Cain's descendants named Lamech. Perhaps you have heard of Cain and his contentious relationship with his brother Abel that ended in murder; and Lamech was a chip off the old block. Listen to what he said to his wives: "Adah and Zillah, hear my voice; listen to me, you wives of Lamech. I have killed a man who attacked me, a young man who wounded me. If someone who kills Cain is punished seven times, then the one who kills me will be punished seventy-seven times!" (Genesis 4:23-24 NLT)
We've been doing it since the beginning: we attack those who are different. We attack those who may threaten us or even bump into us on the street. We respond with over-the-top vengeance, just like Lamech, whenever we feel threatened.
So how have we survived? If our natural tendency is to strike with mortal force those who impinge upon us, why have we in the human race not killed each other off? My only answer is that there is a force in the universe greater than hate; there is a power stronger than vengeance; there is a spirit more pervasive than self, and it is thankfully reflected in each of us as the image of God.
And we have witnessed this force at work in those who have daily gathered at Mother Emmanuel over the last week to pray and to serve. We have witnessed this power in those who have not returned hate for hate but rather have responded in compassion. We have witnessed this spirit in the families of the victims who are working very hard toward forgiveness and not vengeance. One of the victim's sisters said this: "I will forgive that man. I'm not there yet, but I will forgive him for taking my sister from me. She taught me that we are the family that love built; we have no room for hating."
Those who have been hurt the most by this premeditated act of base humanity have made the very IN-human choice to forgive. Because, in their own words, "forgiveness is a form of freedom. I refuse to be ruled by anger or resentment."
I know this is a lesson I need to learn again, as does the rest of America. And I pray it is a lesson we learn for good this time.
Rev. Carl Palmer
Associate Pastor