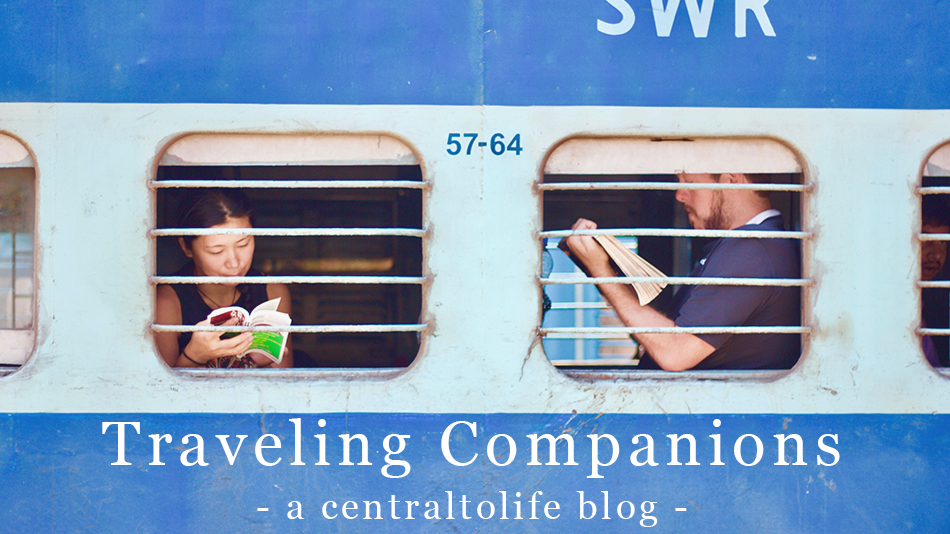 I look up to the mountains—does my help come from there? My help comes from the Lord, who made heaven and earth. … The Lord keeps watch over you as you come and go, both now and forever.

Psalm 121 : 1 - 2 (NLT)
Psalm 121 has long been one of my favorite Psalms. It's one of the fifteen Psalms known as the Song of Ascents or Pilgrim Songs sung by Israelites as they journeyed upward to Jerusalem for annual festivals to worship at the Tabernacle, and later at the Temple on the Temple Mount. Likewise, they would sing these songs on their journey back home. To say that one "longed for Jerusalem" was to say that one longed for the very presence of God.
These Psalms remind us that we all are going somewhere—no one is heading nowhere. Everyone is headed toward God or away from God. Life is not simply stationary. Eugene Peterson explains,
The Christian life is going to God. In going to God Christians travel the same ground that everyone else walks on, breathe the same air, drink the same water, shop in the same stores, read the same newspapers, are citizens under the same governments, pay the same prices for groceries and gasoline, fear the same dangers, are subject to the same pressures, get the same distresses, are buried in the same ground. The difference is that each step we walk, each breath we breath, we know we are preserved by God, we know that we are accompanied by God, we know that we are ruled by God; and therefore no matter what doubts we endure or what accidents we experience, the Lord will guard us from every evil, he guards our very life.[1]
God is our greatest traveling companion on this journey. In fact, God came to travel with us in Jesus Christ. John's gospel says,
The Word became human and made his home among us.

John 1:14 (NLT)
While God is our greatest traveling companion, God has built us for relationships with one another so we may journey together. Jesus then illustrates this in choosing to travel through life with others.
As mentioned before, the Songs of Ascent were sung by God's people as they traveled to and from Jerusalem for worship and celebration. They watched over and protected one another as they made the often perilous journey to the temple. They guarded one another from attacks on the road, wild animals, and other such dangers. We need people in our lives to journey with us in order that we may "watch over one another in love" between our Sundays and other times of worship. "Watching over one another in love," was a key phrase of the early Methodists and the practice of it was instrumental in the Methodist Revival.
Recently, Dr. Jan Davis emphasized the importance of committing to worship plus one other area of discipleship. She wrote in her blog entry from August 14, 2019,
This additional church activity could be a Sunday School class, Bible Study, small group or service project.[2]
While I've taught and led many groups that have served as the "plus one" beyond worship, the New Room Band, of which I am part, is the most transformational in my life. Every Friday morning at 6:30, I meet with two other gentlemen to share "how it is with our souls." Each time we get together we ask the same five questions:
What is the state of your life and faith?
What is the possibility of transformation?
What stands in the way?
What ways and means will move me forward this week that the Band can ask for an update on next week?
Is there anything that I don't want the Band to know about me this week?
I will confess, it took months before we were comfortable enough to answer all of these questions. It takes a lot of trust to be that honest and transparent but that's the beauty of having true and authentic traveling companions. We listen to one another, speak life over one another, and pray for one another. Just like the pilgrims singing the Songs of Ascent watched over one another as they traveled to and from Jerusalem for worship, we watch over one another from week to week in between the times of worship. And like the early Methodists, we watch over one another in love.
If you want to know more about New Room Bands, Dr. Jan Davis and I will be leading a group focusing on discipleship bands on Wednesday evenings 6:00 pm beginning September 11. You can register here. My prayer is that you, too, will have traveling companions who listen, speak life, and pray for you.
---
[1] Eugene Peterson, A Long Obedience in the Same Direction. Downers Grove, IL: Intervarsity Press, 2000 2nd Edition, 44-45.
[2] Jan Davis, Worship+. August 14, 2019, Retrieved August 26, 2019. http://www.centraltolifeblog.com/worship/