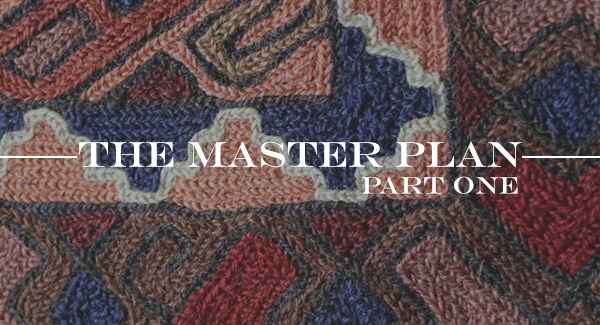 The Master Plan Part 1: Sprouting
Not long ago I spoke with an old friend who had some concerns about her recently purchased hand made wool rug. She had it only three months when little pulls and nubby threads began to appear. She panicked. That rug was beautiful and it meant a lot to her. She was conflicted over leaving it in its present condition and not being able to enjoy it as she had hoped, versus risking repairs that might not be satisfactory. She got some advice from friends, heard some horror stories about the dealer and handmade wool, and had thoughts of having to replace the rug with another one that really wasn't what she wanted at all. So she got on the website of the rug maker to see if she could find some accurate information. As it turns out those small pulls and nubby threads were a natural occurrence in this old way of making rugs that made it look older (what she wanted) but was still new. She was relieved to learn that the "Sprouting" was not a sign that the rug was breaking apart at all. The solution was simple. Take a sharp pair of scissors and cut off the sprouts even with the level of the rug. Vacuum. Enjoy. The rug soon would lose all the sprouts and she would enjoy that rug the rest of her life.

There's some sprouting going on in our church, too. The hand weaving is called 'Master Planning" and the small pulls and nubby threads that are appearing in the process are worries from some in the church about what might happen to our campus and buildings. We need to take a pair of sharp scissors to the rumors and inaccurate information floating around that have caused panic in some and horror stories too. (Haven't we been told to "wait to worry" in a previous sermon by our Senior Pastor)? To me we need to partner with each other to fulfill the mission of our church in winning disciples for Jesus Christ. So here begins a series about the facts thus far, with a little background to help with understanding.

A few years ago, as part of Central United Methodist's Church's (Central) ongoing strategic planning process, various leaders at Central were charged with working on a comprehensive multi-year Master Plan for Central's campus and facilities. The need for this grew out of a desire to project at least 15 years into the future, matching growth with repairing existing deficiencies and facility requirements. We had a growing membership and a shortage of ministry space in some areas. Now more than ever we needed improved disability access, better parking, restrooms, improved pedestrian flow, and connected indoor gathering space. Leadership and Pastors believed this couldn't be done in either a makeshift or haphazard way. Our leaders found that we could predict with some degree of accuracy what our needs would be. As others have found, it is just good stewardship to plan for the wise use of the property God has entrusted to our congregation. (Gary Nicholson, LifeWay, "10 Dumb Things Pastors say Early in a Building Program.") Of great importance is our long-term goal of having all of our children in one location. All felt the need to provide more space and closer connections for them. If you talk to most any parent who has children involved at Central, you will learn that there are very real concerns about the physical distance between children's activities and adult classes and worship. We felt the need to plan for our children's future and our own, thus the need for a master plan.

Earlier this year, following Church Council approval, Central's leaders formed a Building Committee to review master plan work to date. The Committee needed to dig deeply into the work. Its charge was to embark on a somewhat tedious process to explore options and gather information to bring to the church leadership and congregation for input, questions, and refinement. The Committee is studying educational spaces, activities spaces, worship spaces, and spaces where members can connect with each other as a congregation, formally, as well as informally, in ways that just aren't practical or even possible with our current campus layout.

Central is now the largest United Methodist congregation in Arkansas. As such we have some responsibility to set a standard for other Arkansas United Methodist congregations to follow, and to foster education, discipleship, training, accessibility, and welcoming in our Wesleyan tradition. Our impact potential is tremendous as we have already seen with our satellite campus, Genesis Church, and will soon see with our Wesley campus ministries.

The extent of Central's role and our responsibilities can be difficult to communicate with a congregation of nearly 5,000 members. As Lay Leader I am a big believer in open communication and conversations among us all. Rumors and inaccurate communications can be incredibly destructive. This Master Plan is under consideration and for now in a continued state of development by the Committee.

This post and the next several will seek to provide you with information about the master plan process being undertaken by the Building Committee. As we move along, I hope you will begin to bring forth your questions, your concerns, and your ideas, as some members already have. In the end, we hope that whatever direction we take is reflective of the collective views of our entire congregation and the leading of the Holy Spirit. With the help of our church Administrator, Brian Swain, Building Committee Chair, Jason Wilson, and others from whom I will seek counsel, I hope to provide you with timely and thorough responses. Probably the most important thing I can share at this stage is that no commitments to new development, remodeling, or demolishing buildings have been made thus far. Absolutely none. In fact, no decisions of this nature can be made without the approval of our membership. So, stay with us and pray for us. There is much more information to come. Let us know what you want to know.

-Donna Pettus
Central's Lay Leader

Feel free to voice your opinion in the comment section below.