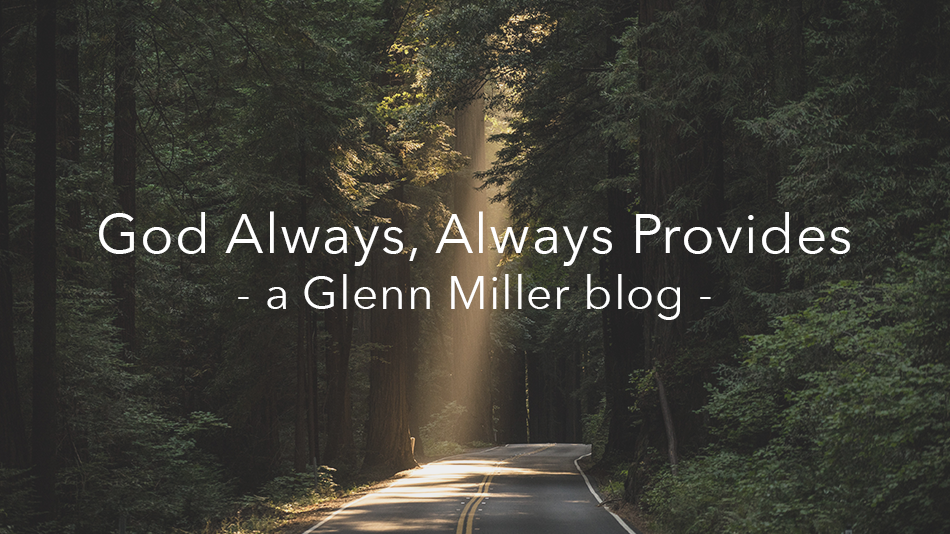 God Always, Always Provides
It can become routine to doubt the power and desire of God to provide for our every need and to somehow think that miracles of provision happened 'back then' – as if those things don't still happen every day of our lives: God protected His people against their enemies back in the "Old" Testament. God provided Manna to His needy people thousands of years ago. God brought His son into the world back in Roman Times. Jesus worked miracles back 2000 plus years ago in His lifetime. And God promised to meet Christians' needs way back in the first century.
There have simply been too many examples of God's lavish provision to weigh myself down with worry, doubt, stress, or fear. The examples come in every facet of my life – religiously, financially, spiritually, physically, and in ministry.
Religiously
I was an atheist for years, actively debating for the non-existence of God. If there was a God, He surely didn't seem to care about our lives. But by the power of the Holy Spirit, God instilled faith in me when my son, Matthew, was born in 1995. It was through experiencing the miracle of birth that I opened myself up to be reborn as a person of faith. It became clear that life was more than just some 'cosmic accident', and that there was a loving Creator who provides for us.
Financially
Somehow my family has had everything we ever needed, and I'm not vain enough to think it was all because of my effort or due to sheer luck. Two weeks from my receiving a layoff notice during the Great Recession of 2007, my wife was hired back at the job she had been away from for seven years, and miraculously we were also provided with 18 months of unemployment benefits. We went from being terrified about how we were going to survive and pay bills, to actually prospering financially.
This poor man cried, and the LORD heard him and saved him out of all his troubles. - Psalm 34:6
Spiritually
God promises that we have every spiritual blessing in Christ – and I went from living solely in the physical realm (what we can see, taste, touch and feel) – to living with the peace that only the living water of God flowing within us can provide. In His love, God will provide us with a new spirit that can sense the beauty of the world and will give us the power of the Holy Spirit to work within us.
Physically
In 2012 my C4 thru C7 vertebrae (and Yamaha FZ6 motorcycle) were destroyed in a 40-mph crash into a Jeep Cherokee. Local doctors informed us to look for nursing home care as I would never walk again and would need constant care. By some miracle, God provided a surgeon who just happened to be in town teaching on a new technique for repairing that exact sort of injury. It has radically changed my life to know that God is continually providing healing to me every day.
In Ministry
Jeremy and Doris have been our friends since we began Genesis Church almost four years ago. They have struggled day to day with personal issues, complicated by the trauma of poverty and homelessness. About three months ago, with everything falling apart around them – stuck in dangerous housing and unable to make it on their own – they asked God to take control of their lives and provide for them. We prayed with them, worked through Celebrate Recovery together, and simply trusted that God would provide for them.
Last week, they were accepted into a life-changing 12-month program for married couples. This program is Christ-centered and provides a way for them to rebuild their lives, work on their problems, and let God be their guide – always providing and offering grace and a future.
Dr. T.L. Batts came to Northwest Arkansas from a small church in Texas. He was sent to preach and lead people to Christ, but they weren't planning for his car to break down on the way home. Without financial resources, Dr. Batts found himself stranded. Every agency and church told him to go to Genesis. We prayed for God to provide a way to get him home to his family and congregation. With the blessing of a generous donation, God provided for this man of God to get his car fixed and gas tank filled. As we held hands and thanked God for His provision, Dr. Batts shared with us that he'd "never seen a church with so much compassion and care for the needy" – and thanked us "for truly living out God's call to provide for others."
As we have been so blessed and provided for in our personal lives, in our churches, and in our ministries – it is with thankfulness and love that we are to provide for those in need all around us – but it takes believing in God's provision, asking for His help and wisdom, and taking steps of faith with God to get where He wants us to be.
Glenn Miller,
Local Missions Coordinator